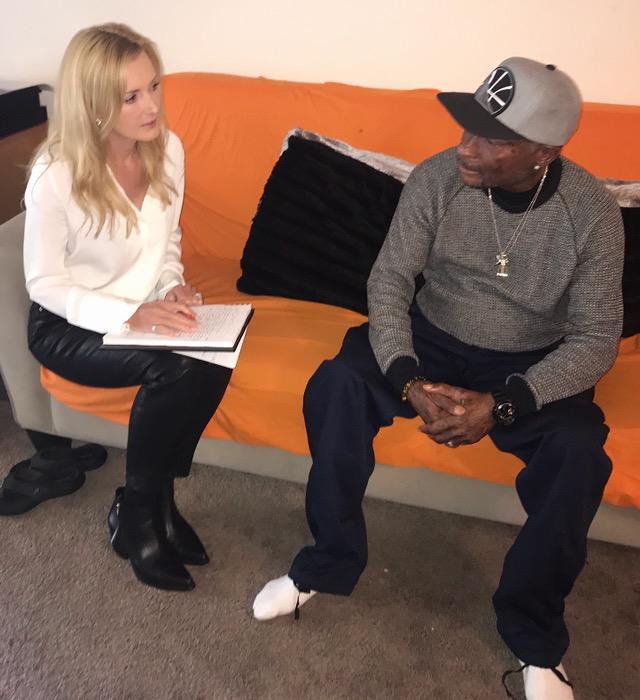 A self-proclaimed "Kansas Girl," Carey Gillam (shown here with NHL patient and plaintiff Lee Johnson) is an investigative journalist and author who has dedicated her career to understanding the risks and rewards of the modern-day food system.
---
---
HHRA chatted with journalist Carey Gillam, author of the new book The Monsanto Papers: Deadly Secrets, Corporate Corruption, and One Man's Search for Justice; Island Press, Release Date: March 2, 2021 
HHRA: Your first book, titled Whitewash, was described by one reviewer as a "hard-hitting" expose about Monsanto and the health and environmental risks of its best-selling Roundup herbicide. How does The Monsanto Papers compare?
Gillam: Whitewash was a book about long-hidden science and the company's deception about the dangers its products pose. The Monsanto Papers is the very tragic human story about the results of that deception. This new book takes readers into the personal and painful struggle of Lee Johnson (pictured here with Carey)—an average middle-aged husband and father—as he sees his life unravel due to his terminal cancer diagnosis and tries to prepare his wife and two children for his death. The book also explores the fascinating—and controversial—tactics of the mass tort attorneys who decide to help Lee, and thousands of others like him, take Monsanto to court.
HHRA: You say The Monsanto Papers tells the inside story of Lee Johnson's 2018 lawsuit and trial against Monsanto. Why was this such a landmark case?
Gillam: Lee became the first person in the world to go to trial against Monsanto and to prove that the company's 40-year-old, wildly popular weed killer causes a type of cancer called non-Hodgkin lymphoma. Though many scientists for years had pointed to evidence tying Monsanto's Roundup herbicide to cancer, the company had always been successful in convincing regulators and customers that such evidence was invalid. Few onlookers thought Lee and his lawyers could actually win at trial against the powerful and highly influential Monsanto. But people around the world wanted to see the evidence, and the case ended up being covered by media from around the world.
HHRA: Why is this book timely?
Gillam: Monsanto owner Bayer AG is now attempting to resolve more than 100,000 cases by paying out over $11 billion in settlements, but many thousands of plaintiffs continue to try to press forward with their claims that Monsanto's weedkillers cause their cancers.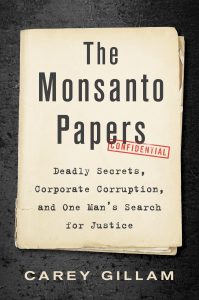 HHRA: Why did you write the book, and for whom?
Gillam: This book is written for all those who want to know more about the secrets kept by companies peddling dangerous products. It's also written for those who suffer from cancers and other diseases caused by products and substances we've been told are safe, but which we belatedly learn are not safe at all. The corporate wrong-doing exposed through Lee's trial and subsequent actions in the litigation provides a cautionary tale for consumers.
HHRA: One gripping chapter in the book describes Lee's lawyers leaking internal Monsanto documents just after midnight to a journalist who makes them all public the next morning. You were that journalist. Did you have any concerns about publishing the documents? Why did you decide it was important for the public to see those documents?
Gillam: I had no concerns about publishing the documents at all. Corporations peddling products to millions of people around the world have a moral obligation to be truthful about the safety of those products, and I knew the internal company records would help people understand what actually was true and not true in this case. I did rush to get the documents downloaded and posted on a public website before dawn broke because I feared Monsanto might try to take court action against the law firm to force the firm to pull the documents from public view. Once I put them up I was not going to take them down.
HHRA: Your reporting is based on nearly unfettered access to Lee and his lawyers, and more than 80,000 pages of court exhibits and other documents. Did you discover anything in the course of that research that stands out or surprised you?
Gillam: Given my work writing Whitewash, I was already familiar with a lot of the evidence of corporate manipulation of the science, but the secrets that came to light when Monsanto had to turn over its internal emails to Lee's lawyers were stunning. The Monsanto Papers takes readers into the law offices as the attorneys went through the company records for the first time, finding out about the company's plot to kill a government toxicity review of its product; about the fact that Monsanto never conducted studies to see if the products sold to consumers caused cancer and avoided or ignored numerous warning signs about product dangers to human health. The lengths the company went to in order to discredit and harass independent scientists was also quite stunning. And the fact that all this went on for decades made it so much more damning.
HHRA: What do you hope readers take away from The Monsanto Papers?
Gillam: I hope readers are moved by Lee's personal journey and motivated to understand that this story of one man and one company is really just a microcosmic example of a pressing need for greater protection of public health from the dangers of powerful corporations that put profits before people.
See more about the book here. Buy the book at Amazon, Barnes & Noble, publisher Island Press or independent book sellers.
Follow Gillam on Twitter @careygillam