Help HHRA Grow!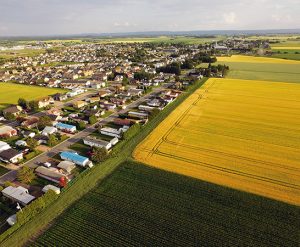 Imagine you were living and raising a family in the Midwestern town pictured here.  You've heard that prenatal pesticide exposure has been linked to several health problems with pregnancy and child development. How would you protect your children, both born and unborn, from pesticide use in the fields nearby?
We're working hard to provide scientifically-grounded answers to questions like this. Are pesticides impacting public health, and if so, which ones? HHRA is seeking workable solutions that benefit both farmers and families. Our research is driven by mothers and doctors— in the Heartland and beyond — who are concerned that pesticide exposures could be impacting human reproduction and children's development.
With your help, we can ensure our projects have access to the funding and resources needed for essential testing and our clinical research. Ultimately we hope to help shape and drive policy change.
Generating new science and insights to promote public health is our mission and passion. HHRA is a 501(C)3 non-profit organization and all donations are tax deductible.
Thank you for any help you can provide!
There are three ways you can help us grow:
Provide

general support

for the projects and initiatives of the HHRA. Your donation will be applied to our most pressing priorities. 

Support our cutting-edge research, such as HHRA's flagship project The Heartland Study, our work measuring pesticide levels in people, and our efforts to track changes in pesticide use.
Support our Communications, Outreach and Education Program. Your donation will help us amplify and share our science to ensure it has a constructive impact on food, farming and health.
Select one of these options in the donation section below to make a tax-deductible contribution to HHRA.
Donate Here
Ways to Give
Scroll down donate online by credit card or PayPal
Contributions by check. Checks payable to the Heartland Health Research Alliance should be mailed to:
Heartland Health Research Alliance
17145 W Bluemound Road Suite J-128
Brookfield, WI 53005
For general fundraising questions, to donate stock or other forms of funding, or to direct your donation to a specific project, please contact Executive Director Charles Benbrook at cbenbrook@hh-ra.org.