Pesticide Use Data System
Accurate and timely data on the frequency and intensity of pesticide applications on major crops are needed at the county, state, and national levels to help scientists, regulatory agencies, and farmers recognize when there is slippage in the efficacy of current pest management systems. It is also vital in identifying which herbicides warrant closer scrutiny because of markedly rising use and weed resistance.
For example, in the Heartland since the late 1990s, the rapid adoption of GMO corn and soybean seeds led to sharply rising use of glyphosate-based herbicides (GBHs). In 1995, 20% of the national soybean crop was sprayed with about 0.6 pounds of glyphosate, for a total of 7.6 million pounds applied. In 2016, 91.5% of soybean acres were treated with an average of 0.9 pounds of glyphosate, resulting in a total of over 102 million pounds — 13 times more than in 1995!
Beginning in 2016, upon the approval of soybeans and cotton crops genetically engineered to resist both GBHs and dicamba, use of the high-risk herbicide dicamba began rising, especially in states on the southern edge of the Cornbelt. Beginning in crop season 2019, newly approved GMO soybeans resistant to both GBHs and 2,4-D started driving the use of 2,4-D upward.
Heartland Health Research Alliance will deploy the Pesticide Data Use System (PUDS) in tracking a complex set of 18 indicators of pesticide use.
About PUDS – The Pesticide Use Data System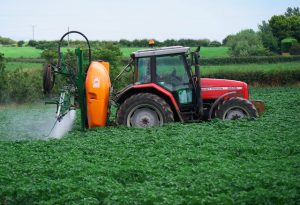 PUDS is a U.S.-focused pesticide use analytical system created by Heartland Health Research Alliance Executive Director Dr. Charles Benbrook that can be accessed via online tables on his website Hygeia Analytics.
PUDS utilizes the annual pesticide use data collected and published by USDA's National Agricultural Statistics Service (NASS), via their online Quick Stats Database.
NASS requires a subset of U.S. farmers to report the amount and frequency of pesticides applied to crops, typically on a bi-annual basis for fruits and vegetables, and periodically for grain and row crops.
In each year for all crops surveyed, NASS strives to collect data from states that together account for at least 85% of the acres planted nationally to a given crop.
This crop-by-crop, state-by-state and national information is downloaded from Quick Stats each year, and incorporated into the pesticide use database that supports PUDS.
PUDS is then used to generate a series of tables assessing pesticide use by crop, by type of pesticide, and by specific active ingredient, as well as in trends over time.
Learn more about key indicators of change in herbicide use, or see the section "Interactive Herbicide Use Tables" to learn more about herbicide use trends and access our formidable database.