nuMoM2b Nested Case-Control Study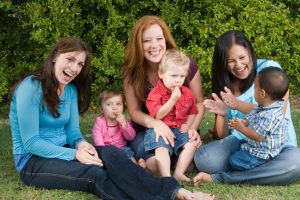 One of the ways HHRA is evaluating connections between herbicide exposure, pregnancy complications, and children's development is through our nuMoM2b Nested Case-Control Study. A nested case-control study is a type of epidemiological study comparing "cases" to "controls" that is "nested" within a larger study. 
The National Institutes of Health-funded nuMoM2b Study (Nulliparous Pregnancy Outcomes Study: Monitoring Mothers-to-be) was conducted between 2010 and 2013. It tracked 10,037 first-time pregnant women, delivering at one of eight hospitals in seven states (California, Indiana, Illinois, New York, Ohio, Pennsylvania, and Utah). 
Medical evaluations were conducted during each trimester of their pregnancies to study pregnancy complications, such as high blood pressure, preterm birth, and poor fetal growth. Data was collected through interviews, questionnaires, clinical evaluations, ultrasounds, and medical records review. As part of the process, urine samples were collected and stored during each study visit during the pregnancy.
HHRA's nested case-control study will focus on about 550 women previously enrolled in the nuMoM2b study. Women from the Heartland study sites of Ohio, Indiana, and Illinois who developed gestational diabetes, experienced a preterm birth, or suffered a miscarriage or stillbirth will be "cases" matched to "control" woman of similar age from the Midwest who did not experience pregnancy complications. 
The frozen and stored urine samples collected during their pregnancies will be tested for a number of different herbicides. Using this data, we will analyze whether herbicide exposures contributed to pregnancy complications or adverse birth outcomes by comparing herbicide levels in the urine of "cases" with the herbicide levels in the urine to "controls." The team will also strive to rule out other factors that might also cause complications.
A goal of HHRA is to understand the ways that herbicide exposures differ by location (urban versus rural) and change over time (spring spray season, winter months with no spraying). Our nested case control study can help us understand and sort out exposure trends. We will also be able to compare the herbicide levels in pregnant women's urine from this study with the results from others — including The Heartland Study. See the detailed study design here.