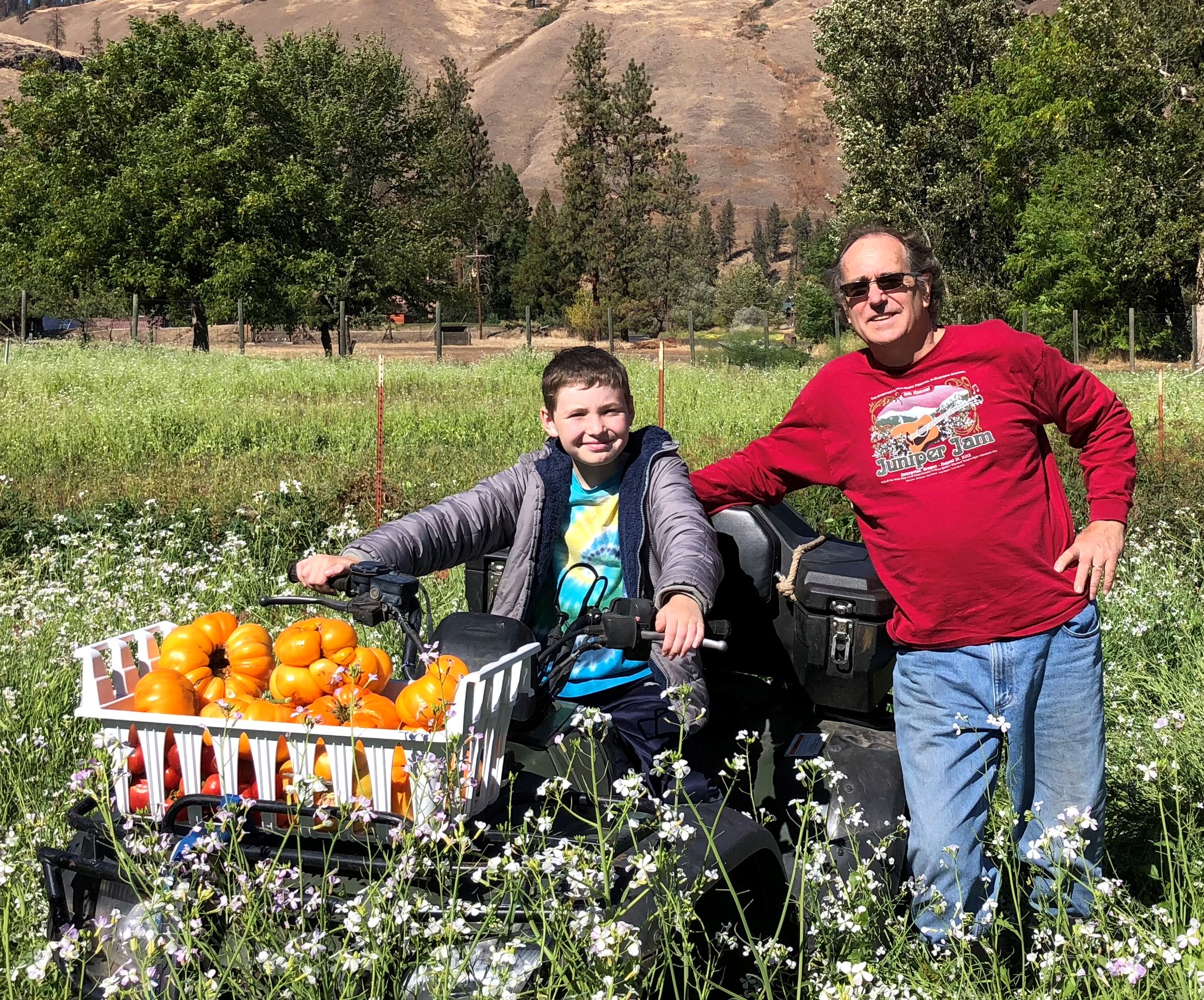 HHRA Executive Director Charles Benbrook harvesting heirloom tomatoes with his grandson Caelen at an organic farm in Oregon.
---
Archived HHRA News Posts
HHRA Paper Analyzes Pesticide Dietary Risk in Individual Samples of Foods

One of the main sources of pesticide exposure is through  the diet. It is critically important to understand pesticide residues in foods and how dietary risks have changed over time. Over the last 20 years HHRA's Executive Director Charles Benbrook has developed an analytical database that quantifies the relative risk posed by residues in the diet. Known as the Dietary Risk Index (DRI), this  system was created to help researchers compare risk levels across foods and pesticides, track changes in dietary risk over time, and assess the impact of where food is grown on residues and risk levels, as well as how production systems influence residues and risks (conventional versus organic). The DRI combines the results of United States and United Kingdom pesticide residue testing programs with data on food serving sizes and each pesticide's chronic Reference Dose or Acceptable Daily Intake. Chronic DRI values are a ratio: the amount of residue in a serving of food relative to the maximum amount allowed by regulators. DRI values are a ratio: the amount of residue in a serving of food relative to the maximum amount allowed by regulators. Data generated by the DRI helps guide HHRA's policy and public health by highlighting which food-pesticide combinations account for the most worrisome risks in the food supply. The DRI system initially reported aggregate values for a given food/pesticide combination. These values are derived from multiple individual samples of a food collected by regulatory agencies.  For these DRI values, each individual number represents many servings of a given food. In 2022, HHRA added additional functionality the the DRI to report dietary risk in individual samples of a given food. The paper "Tracking pesticide residues and risk levels in individual samples—insights and applications," which was published in the peer-reviewed journal Environmental Sciences Europe in July 2022, describes the methodology and data sources used to calculate these individual sample DRI values, and highlights some of the results and what they can tell us about residue levels in the global food supply. This is the first analytical system worldwide to provide this level of insight into residues in food. As the paper reports, "dietary risk levels are highly skewed. A large number of samples pose moderate, low, or very-low risks, and relatively few samples pose high or very-high risks." Thus, regulators and researchers can use the DRI to pinpoint where pesticide dietary risks needs to be mitigated. Like all of HHRA's peer-reviewed publications, this paper is open access and available free of charge. Click here to view the full text. Access DRI data here.
A Note From Our Executive Director
by Charles Benbrook | Jan 7th, 2021
by Charles Benbrook | Jan 7th, 2021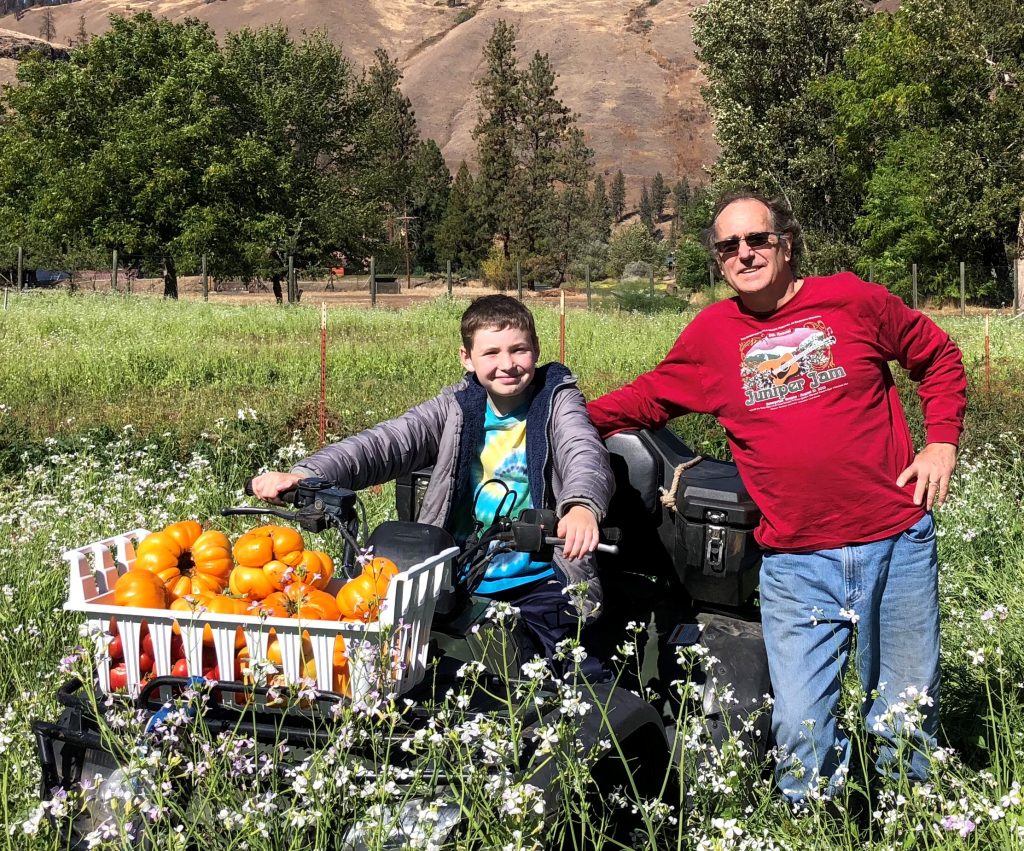 HHRA Executive Director Charles Benbrook harvesting heirloom tomatoes with his grandson Caelen at an organic farm in Oregon.
---
Welcome to the Heartland Health Reliance Alliance (HHRA).
This NGO was started by the scientists and clinicians who designed, and are carrying out The Heartland Study (HS). The Heartland Study is a complex, large-scale, long-term public health research project. Its primary goal is to determine whether the substantial increase in use of herbicides since around 2015 in the Midwest is causing an increase in the frequency or severity of adverse birth outcomes across the Heartland. 
Please explore HHRA's new website to learn about these issues and track the progression of our science.
The mission of the HHRA is unique, as is its flagship project, The Heartland Study. No such project of its scope has ever been undertaken on public health issues arising from agricultural production systems without substantial, multi-year funding from the federal government. But in recent years, federal funding has been cut for several highly successful, long-term studies on children's health. There seemed virtually no chance government funding would be available for a new and unusual project like The Heartland Study.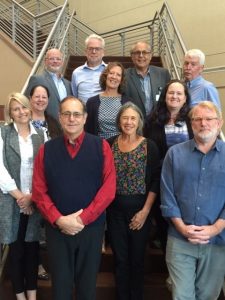 And so our team pursued new ways to organize, manage, and fund the HS. We knew funding would have to be cobbled together from many sources, public and private. We wanted to keep overhead expenses as low as possible, so most of the funds raised would support new science. We also recognized the success of The Heartland Study rested on the ability of the science team to stay focused on the science, and the complicated, sensitive public health challenges we have chosen to take on.
Our team also recognized early on that our core mission would require novel integration of scientific tools, methods, and investigative models from several fields. We knew we would need a large and strong team of collaborators, each with deep experience. This is essential for our scientific work to benefit from their experience, their labs and equipment, colleagues and students, as well as sophisticated clinical research-support infrastructure. 
It was crystal clear we would never raise enough money to create all these research skills and capability from fresh ground and new seed, nor would we ever have enough funding to forge traditional, funding-driven partnerships among universities and research hospitals.
Our team found success through building trust, openness in sharing ideas and then finding better ones, and through the democratic sharing of responsibility and ownership. We came to realize The Heartland Study would succeed only if our team of committed scientists and clinicians remained in control. This meant that no one funder, administrator, university, or hospital partner could emerge as the primary fiscal agent and "leader" of the project. 
We had to create, and then retain open, collaborative decision processes on everything from research priorities and methods, recruitment of new partners and staff, and securing and managing funds. Why? Because the only reason a scientist, doctor, or clinical center joins The Heartland Study is because they too are concerned and care about the issues we are trying to shed new light upon. Because they want to help find answers.
Without a "mothership" to vest management and fiscal agent responsibilities upon, we had to invent an alternative. This led to the creation of the Heartland Health Research Alliance, the Heartland Study's new governing body and principle funder. 
The word "Alliance" is central to what HHRA is about. Our success depends on our ability to live up to the core meaning of the word.
HHRA is focused now on managing and funding the Heartland Study, and related research initiatives in the U.S. and abroad. We are beginning to support graduate education in public health, with a focus on the food and agricultural sectors, and that which sustains us all, our daily bread.
HHRA leaders and scientists share the view that the scope of scientific and technological change in food and farming over the last one-half century has outpaced the ability of physicians and the public health community to recognize and mitigate the impacts of the chemicals and animal drugs now relied on so heavily in farming and food manufacturing. 
We hope the HHRA, and this new way to conduct and fund public health science, will help return public health science to its core mission — preventing harm to public health before it happens. 
-Dr. Charles Benbrook, HHRA Executive Director