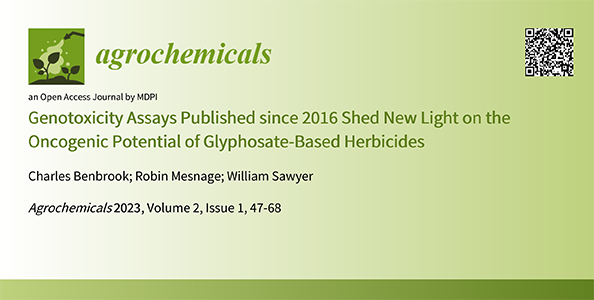 ---
---
Is DNA Damaged When Applicators are Exposed to Glyphosate-Based Herbicides? An HHRA Scientist Wanders Deep in the Weeds
Glyphosate-based herbicides (GBHs) have been used since 1974. The first evidence that GBHs can damage DNA was published in the 1990s. By then, Monsanto had submitted to the US EPA and other regulators around 100 genotoxicity studies, 99 of which reported no evidence of a positive genotoxic response.
These ~99 negative studies, coupled with Monsanto-commissioned critiques of the design, quality, and interpretation of the relatively few published, positive assays, convinced regulators that glyphosate and GBHs were not genotoxic.
From 2000-2010 a few dozen more scientific papers reported a positive genotoxicity response following exposure to glyphosate or a GBH. Several dozen more assays have been published since, with over 70% reporting a positive response.
Despite substantial new evidence showing glyphosate and GBHs can damage DNA and do so through at least two mechanisms of action, EPA and other regulators have not budged from their early 1990s conclusion.
Why is This Important?
Because GBHs are by far the most widely and heavily applied pesticide in history. Worldwide and in the US, more people have and continue to apply GBHs than any other pesticide. A significant share of people applying Roundup or another GBH do so with small-scale, handheld spray equipment that sometimes leads to high levels of dermal exposure to spray solution.
Over 130,000 Americans who have applied Roundup brand GBHs are now suffering from non-Hodgkin lymphoma (HNL) and have sued Monsanto (now owned by Bayer) for damages because of the lack of warnings on Roundup labels, defective, unsafe product design, and inadequate label directions and requirements.
The Roundup-NHL litigation is ongoing, although over 90,000 of the 130,000+ cases have settled and resulted in over $11 billion in payments to individual plaintiffs.
Dozens, if not hundreds of new cases are bound to arise annually over the next two or more decades. Why? Because some 65,000 people are newly diagnosed with NHL each year, and some portion of them will be among the millions of people who regularly spray Roundup to control weeds around homes, gardens, schools, roadways, industrial facilities, canals, power lines, and farm fields.
Science on Trial
Courts and juries have been wrestling for six years now over whether Roundup is more likely than not to increase the risk of NHL among applicators who used the herbicide many times annually over several years.
The debate among dueling lawyers and experts varies from trial to trial, but a primary focus in all trials has been on whether available science supports a "more likely than not" connection between heavy Roundup use and NHL.
Big differences exist in how GBH manufacturers and the US EPA assess the capacity of glyphosate and GBHs to damage DNA (they both conclude it does not), compared to the International Agency for Research on Cancer (IARC) and many scientists not working for or on behalf of GBH manufacturers (it does damage DNA via at least two mechanisms of action).
Controversy over the safety of Roundup and other GBHs has stimulated new research. In the last seven years, 84 newly published assays have reported a genotoxic response following exposure to glyphosate or a GBH, while just six published assays have reported no evidence of such a response.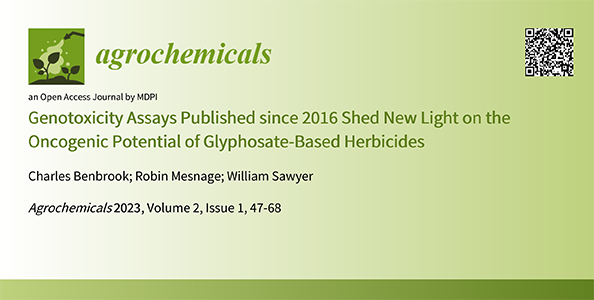 This is among the key findings in an open-access paper by Charles Benbrook, HHRA's Executive Director, Robin Mesnage, and William Sawyer. "Genotoxicity Assays Published Since 2016 Shed New Light on the Oncogenic Potential of Glyphosate-Based Herbicides" was published in the new journal Agrochemicals on January 16, 2023.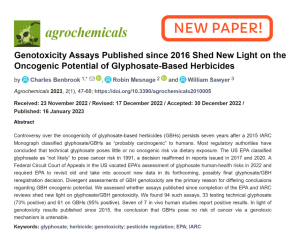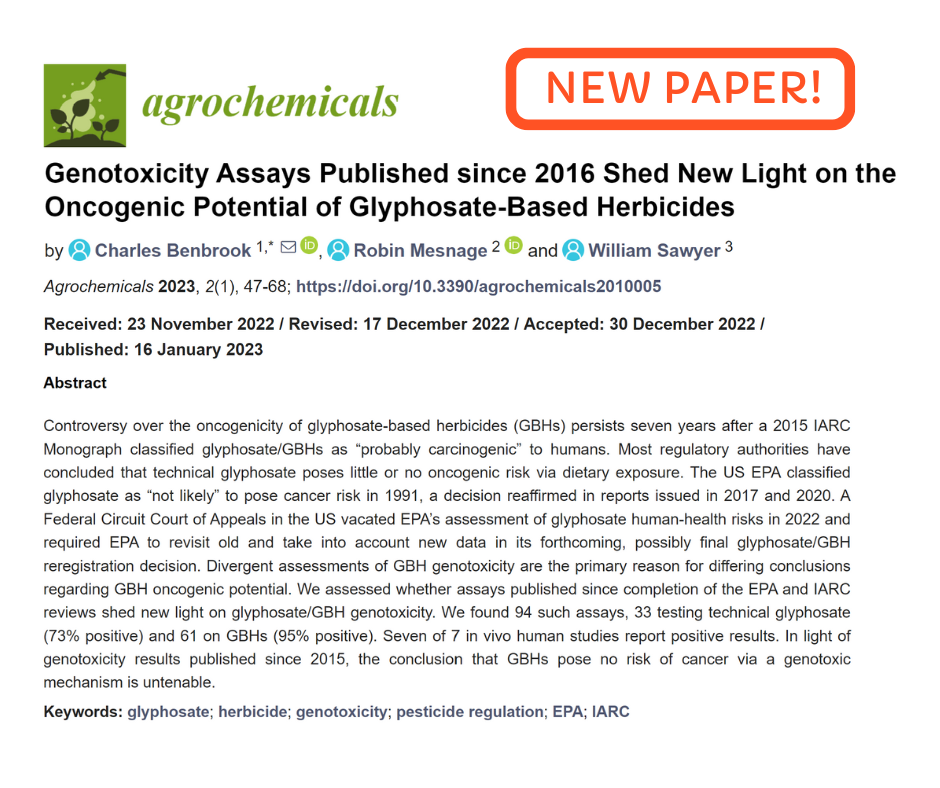 All three co-authors have worked with plaintiff attorneys on the Roundup-NHL litigation. This has helped them understand how and why the EPA and other regulators have thus far not acknowledged that the weight-of-evidence has now shifted.
As stated in the last sentence in the paper's abstract, "In light of genotoxicity results published since 2015, the conclusion that GBHs pose no risk of cancer via a genotoxic mechanism is untenable."
It can take a lot of new science to convince regulators to change a conclusion they have defended for 40 years. Will the new data reported in this paper draw regulators deep enough into the weeds to understand that GBHs do indeed pose cancer risk through genotoxic mechanisms of action?  Time will tell.