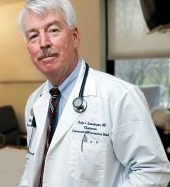 ---
---
By Philip Landrigan, MD, Chair, HHRA Science Advisory Committee
The Ramazzini Institute (RI) is concluding its five-year Global Glyphosate Study (GGS), the most detailed independent study ever conducted on the toxicity of glyphosate and glyphosate-based herbicides (GBHs). The study integrates three parts: a two-year cancer bioassay in rats; a two-generation rat reproduction study, and a full battery of in vitro and in vivo genotoxicity assays.
The study examines three forms of glyphosate: pure glyphosate; Roundup BioFlow, a GBH form used in the EU; and Roundup RangerPro, a GBH heavily used in the USA.  Each form was administered to the rats via drinking water at three dose levels – 0.5, 5.0 and 50 mg/kg/day. These exposure levels are generally considered safe by regulators. Exposures began in prenatal life. There was also a control group not exposed to any glyphosate.
A full set of FAQs describes design features and study goals, and the results of GGS pilot studies (need for independent research, study design and endpoints, and impacts on the microbiome).
Three unique features of the Ramazzini Institute's Global Glyphosate Study distinguish it from all previous studies:
It studies real-life exposures:No previously published long-term carcinogenicity or multi-generational lab studies have examined glyphosate's toxicity at real-life exposure levels generally considered safe.
It is comprehensive and independent:Hundreds of studies have been carried out on glyphosate by both the pesticide industry and independent scientists using high doses over long-term periods. None, however, have been both comprehensive (covering long-term toxicity, carcinogenicity and multi-generational effects) and independent of the pesticide manufacturing industry.
It examines whether Glyphosate is an endocrine disruptor:The GGS previously published a pilot study showing endocrine and reproductive toxicity in rats at glyphosate doses currently considered safe by US regulatory agencies. These findings were later confirmed in a human population of mothers and newborns exposed to glyphosate during pregnancy.
Instead of testing maximum tolerated dose levels, as in the case of glyphosate cancer bioassays conducted by GBH registrants, the GGS is assessing the health effects of doses that are much closer to real-world exposure levels. The GGS dose levels include the EU Acceptable Daily Intake level of 0.5 mg/kg/day, 5 mg/kg/day (10-X the EU ADI), and the EU No Observable Adverse Effect Level (NOAEL) of 50 mg/kg/day. These doses are 100-fold to 1,000-fold lower than the doses in registrant-commissioned toxicology studies.
First Key Findings Released
On Oct. 25, 2023, the RI released the first major findings from the GGS rat cancer bioassay. The press release states:  "A multi-institutional international toxicological study has found that low doses of glyphosate-based herbicides cause leukemia in rats. Importantly, half of the leukemia deaths identified in the study groups occurred at an early age."
No rats in the unexposed control group died of leukemia. Four leukemia deaths were recorded in the rats exposed to pure glyphosate. Three leukemia deaths occurred in the rats exposed to Roundup BioFlow. Seven leukemia deaths occurred in the rats exposed to Ranger Pro. In the formulated GBH treatment groups, the higher the glyphosate dose, the greater the number of leukemia deaths.
In its presentation of results, the RI team stressed that:  "An additional very important finding is that about half of the leukemias deaths seen in the glyphosate and glyphosate-based herbicides groups occurred at less  than one year of age. In previous studies, no case of leukemia was observed in the first year of age in more than 1600 historical controls in carcinogenicity studies conducted by either the Ramazzini Institute or the US National Toxicology Program (NTP)."
The RI team still has substantial work ahead to finish analyzing all of the tissues collected in the three legs of the GGS. They must conduct careful statistical analyses to ferret out statistically significant links between glyphosate or GBH exposures and markers of adverse health effects
One of their most important challenges – and opportunities – is to combine insights from each of the three parts of the GGS into a cohesive, consistent set of findings that identify how exposures to glyphosate and GBHs can impair health, as well as the mechanisms leading to reproductive problems or chronic disease.
The time it will take the RI to complete the core scientific papers reporting the results of the GGS will depend on their success in raising additional funding. Once the first round of papers is  complete in 2024, the RI looks forward to pursuing several additional, collaborative research projects to explore glyphosate/GBH roles in epigenetic change, impairment of the microbiome, and impacts on children's development and metabolic disease.
The addition of the RangerPro treatment group has provided valuable information that would not otherwise be available and shown that RangerPro and other POEA-based GBH formulations are among those most likely to cause leukemia. The RangerPro exposure groups may help resolve critical questions on whether and how exposures to glyphosate or GBHs might be contributing to reproductive problems, birth defects, and developmental anomalies, as well as cancer and other chronic metabolic diseases.
Given that glyphosate-based herbicides remain by far the most heavily applied pesticides in the US and globally, with well over three-quarters of humankind exposed on a near-daily basis, time is of the essence in seeking clarity on the adverse health outcomes stemming from exposure to this herbicide.