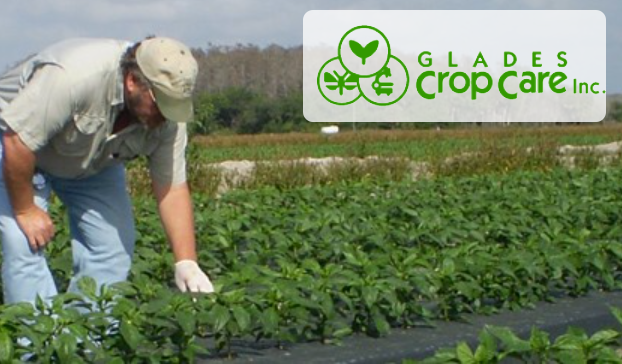 *Co-Authors Madeline and Dr. Charles Mellinger are, respectively, Founder/CEO and Technical Director of Glades Crop Care in Jupiter, Florida. Madeline is also a member of the Farm Foundation. HHRA ED Charles Benbrook has worked as a consultant and collaborator with GCC on the adoption of biointensive Integrated Pest Management systems for 40 years.
---
---
By Madeline Mellinger, Charles Mellinger, and Charles Benbrook*
What does Mike's Pies in Florida have in common with a pregnant woman in the Midwest who is worried about the potential impact of rising herbicide use on her pregnancy and soon-to-be delivered child?
It turns out a lot. "How climate change and extreme weather are crimping America's pie supply" (Laura Reiley, Washington Post, November 17, 2021) explains the myriad of ways climate change has disrupted the food-supply chains supporting Mike's Pies in Florida.
Glades Crop Care (GCC) is one of South Florida's largest and oldest independent crop consulting firms. Crop Care works with growers and shippers producing Florida's fruit and vegetable crops. Disruptions all along farm-to-table supply chains starting out in GCC-grower fields have been unprecedented.
The list of endemic and disruptive forces impacting Florida agriculture is a long one. Big hitters include new invasive pests, water issues and runoff, labor shortages, demand changes due to COVID-19 lockdowns, endless economic pressures and the many factors undermining our growers' profit margins.
But there are four major drivers of ag and food industry problems that all Americans should be concerned about. Collectively they are beginning to cut deeply into the muscle of American agriculture.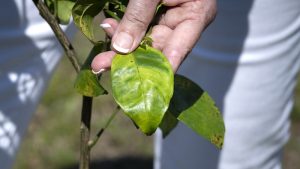 First, climate change is leading to more frequent and severe droughts and flooding. The GCC team is struggling to help growers preserve at least some of the Florida citrus industry plagued now for over a decade by greening disease. Too often our scouts deal with a new pest or one that is surging and beginning to require more frequent pesticide treatments.
Second, growing high-quality fruits and vegetables and getting them to people and into Mike's pies takes people with skills and experience, time, and patience — and a living wage all along food chains. Those people who promise a robot for this and a drone for that mistake growing food for writing computer code. Artificial Intelligence has its place, but will benefit farmers only when wisely deployed and not asked to do too much.
Biological systems don't follow code or behave as we think they should. Boots on the ground connected to people with experience and knowledge cannot be replaced. Those companies, academic institutions, and enthusiastic entrepreneurs promising solutions programmable from smartphones are overstating what artificial intelligence can bring to the task of feeding the world.
Third, cheaper imports arguably dumped into the US market have been steadily trimming the diversity of fresh produce grown and marketed in Florida, Texas, the Southwest and key production regions in California, Oregon and Washington.
The price of land, water, inputs, regulatory compliance and labor is much higher in all these states than in Mexico, Latin and South America, and many other countries. Our markets are the promised land for them. Their success comes at the expense of our growers and our nation's capacity to feed our people. How about this radical idea — Buy local, or at least American.
Fourth, we see no end in sight of climate-change driven shifts in pest pressure. Some of our pests in South Florida are headed north into Georgia and the mid-West where they will pose new challenges. Our growers in South Florida will be contending with new invasive pests from Cuba, Latin America, and the Caribbean. Movement of people creates movement of pests and pathogens and resistance genes. Our inspection systems need upgrades because prevention is so much cheaper and better than treatment.
And farmers everywhere will have to find ways to contend with the growing number of pests that have become or are becoming resistant to several, if not most widely used pesticides.
This brings us to the connection between Mike's Pies and pregnant women in the Midwest. In the Heartland the spread of weeds resistant to most widely used herbicides is driving an unprecedented increase in reliance on higher-risk herbicides and may soon threaten the sustainability of corn-soybean production, the backbone of the US food system.
Rising herbicide use is accompanied by rising human exposures. Pregnant women, infants and children are the most vulnerable among us when pesticide exposures are rising. Climate change in the Midwest is making weed management even more challenging.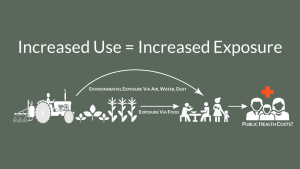 Solving the climate-change driven problems facing Mike's Pies in Florida and corn and soybean farmers in Iowa will be the stress test for this generation of farmers, food companies, scientists and policy makers.
For the health of the next generation of babies born in the Midwest and apple pie lovers in Florida, we need to address these four major drivers of change more effectively. Let's encourage unbiased research. We worry that the scope and scale of challenges facing farmers and the food industry might outpace agricultural system and food industry innovation. If that happens we will have to become accustomed to periodic shortages of apple pie and a whole lot more.